Weighted blankets mimic the benefits of deep pressure touch therapy and have been proven to help people suffering from insomnia, anxiety, ADHD, autism, restless leg syndrome and other such conditions.
The deep pressure works on the sensory points of the body which triggers the release of serotonin and dopamine. These neurotransmitters can relieve stress and help you sleep better and for longer hours. The "weight" also has a grounding effect on the body which creates a feeling of security and peace.
Regular use of weighted blankets can be calming and deeply relaxing. This makes them a great investment for individuals suffering from sensory processing issues or sleep disorders.
We use the term "investment" because buying a weighted blanket can certainly be a costly affair. After all, what makes them therapeutic is the weight and the way it's sewn into the fabric, tailored as per individual needs—making them an expensive buy.
If you too have been thinking on getting one, but the cost is holding you back—here's a detailed breakup on why weighted blankets cost as much as they do!
Elements that impact the cost of weighted blankets
Just like other therapeutic or comforting products, the cost of weighted blankets is in sync with the various factors that go into making them. This includes the fabric, filling material, size and weight, labor or workmanship, and other intermittent costs of manufacturing, storage, marketing, etc.
Understanding these factors can help you to choose and customize the weighted blankets as per your needs and your budget.
1.     Outer fabric of the blanket
Selecting the right fabric for your blanket is critical not just to ensure maximum comfort but also to keep your budget in check. Talking about fabric options for weighted blankets, there are a plenty! From lighter, breathable fabrics like cotton to the plush polyesters and satin, there is a wide variety available to suit every need and budget.
If you are sensitive to heat or live in warmer climates, choose cotton fabrics that are lighter in texture and allow an easy flow of air. For kids, softer and cuddlier fabrics like mink or satin might work better. Flannel is yet another alternative that is soft against the skin and maintains the right amount of warmth. It is also hypo-allergenic and more affordable when compared to the plusher fabrics.
Weighted blankets for autistic children or patients with an increased sensitivity towards environmental inputs must feel soft and non-threatening. In such cases, lighter fabrics like cotton, fleece and satin are a safer bet.
Some manufacturers allow customization in terms of color, pattern and prints. This of course again depends on the fabric you choose. While brighter colors or animated prints are aesthetically pleasing, it is best to stick to lighter or neutral shades as they have a soothing effect on the mind and can promote better sleep.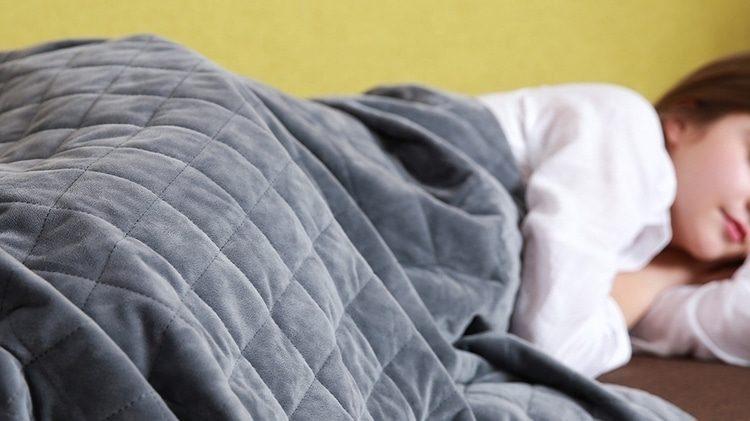 The price of the material and the customization will also add up to the overall cost of your blanket. For example, cotton typically costs around $8 to $10 per yard while mink can go up to $15 per yard—you can do the math based on the size of the blanket you need.
However, choice of fabric for weighted blankets should not entirely be guided by price. The focus should be on comfort, quality, and health benefits.
2.     Weight and size of the blanket
Another obvious cost factor is the size and weight of the blanket itself. Unlike choosing the fabric, the weight of these blankets is defined by a set guideline. The blankets need to be around 10% (plus a pound or two) of the individual's body weight—adults and children alike. Adhering to this ratio is vital to experience the therapeutic effects fully!
The costs therefore can be fairly inexpensive for a 3-pound blanket, but become quite expensive for a 25-pound adult blanket.
Ensure that you choose the right size and dimension based on the body weight and height of the person using it. Weighted blankets should ideally be smaller than your bed, so it doesn't slide off to one end.
Readymade weighted blankets typically come in the following sizes:
Small: 38″ x 62″
Medium: 38″ x 72″
Large: 56″ x 72″ and 64″ x 72″
Other commonly available sizes are 30 x 48, 42 x 72, and 58 x 80 inches. These are standard sizes but can vary depending upon the manufacturer. Also, customized or handmade blankets can be sized as per your specific requirements. The only factor to keep in mind is the increase in price—the bigger the blanket, the higher it costs!
3.     Workmanship and labor costs
Weighted blankets are quilted fabrics with filling sewn inside them. This needs precision and a lot of work, especially when it's done manually. The number of hours put into making each blanket is directly proportional to the cost.
The construction of weighted blankets also differs based on the manufacturer. Some blankets resemble a down-filled comforter that comes with multiple compartments or boxes, each filled with the weighted material; while certain others use the channel compartment design which completely encloses the filling material. This construction allows for the weight to be evenly distributed throughout the blanket, and is a preferred option.
Then there are the DIY (do-it-yourself) blankets that sometimes come with a washable outer cover, while others are fully sewn together where the outer layer cannot be detached. The labor costs in each case varies depending on the amount of work involved (and of course the other factors we have mentioned in this post).
4.     Filling material
The interior contents of a weighted blanket, i.e., the material that adds to the weight is another point of difference in the pricing. The different fillings include poly pellets or poly fills, glass beads, pebbles, and food products such as rice grains and barley.
Poly pellets are tiny pieces of plastic that are non-toxic and recyclable. Most manufacturers prefer these over other types for the ease of use and durability.  Another common filling is the micro glass beads which aren't as dangerous as they sound. These are soft beads with a very fine texture (and no risk of breakage). Glass beads are denser than poly pellets so you need fewer beads to get the same amount of weight.
A relatively new option in this range are the steel shot beads. These are larger than glass beads but easier to clean and quite durable.
A lot of DIY blankets make use of food grains. While they do work as good fillers and are inexpensive, food grains are also susceptible to mold, insect infestation, and degradation. Also, people with food allergies need to be extra careful when using grains as a filling material.
In general, plastic poly pellets and steel beads cost more than the other filling types but they are also more durable and easier to clean.
5.     Point of Purchase
In terms of manufacturers too, you can be spoilt for choice. There are several popular weighted blankets brands in the U.S. alone, then there are products from countries like China and Vietnam that you can choose if you are looking for cheaper options.
A medium-sized blanket can vary in cost depending on who the seller is. Be cognizant of the price variation because on most occasions a difference in price also indicates a difference in quality.
For those who are particular about their choices, you can reach out to local sellers that provide handmade blankets or better still, make them yourself with the help of online DIY guides.
6.      Incidentals
The indirect costs of manufacturing a blanket also influence the overall cost. This can include marketing, storage or rental space, transport, and other secondary expenses. This is true for both commercially manufactured blankets and the DIY products, with a slight variation in pricing.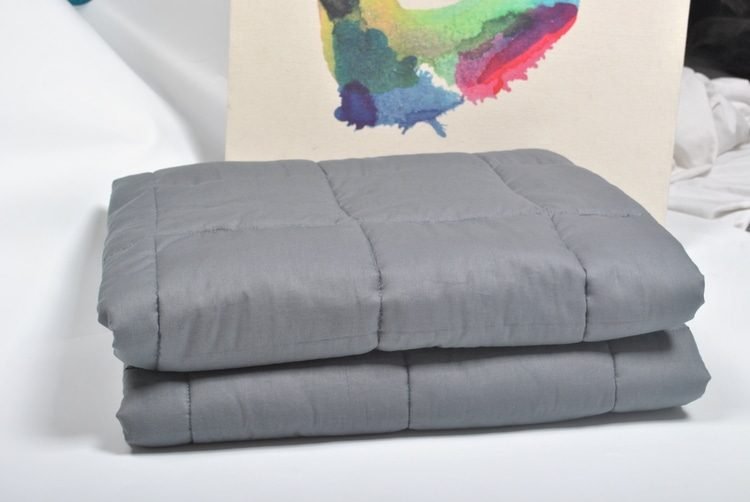 Understanding these factors takes away the guesswork from the final equation, so you are better equipped to make an affordable choice. The choice of fabric, filling material, customization, etc., can be worked out in a way that best suits your budget.
And if you are wondering whether choosing a commercially available blanket is a better option or should you make your own, here's a quick guide to help you.
DIY weighted blankets vs. readymade products
Clearly, DIY blankets can work out cheaper but readymade ones have their own merits. Let's take a quick look at the pros and cons of each.
Readymade or commercial weighted blankets
Manufactured in bulk so you can get the right one delivered to you quickly and without much hassle.
There is a wide variety of colors and styles to choose from, and the same is true for sizes. You can choose the dimension you want from the standardized variants available online and offline.
In terms of fabrics too, since these blankets are mass produced you can get a good rate for even the more expensive fabrics.
Most commercial weighted blankets are covered under a warranty—so if the filling comes off or the material isn't as durable, you can get your blanket replaced under the warranty.
DIY weighted blankets
You have complete control on the design, material, inner filling, and more! DIY blankets are unique as they are your own creation.
The size and weight can be exactly as recommended by your therapist or doctor, and you have the autonomy to sew it exactly the way you like it.
While readymade blankets also offer a variety of fabric options, when you are making your own you can experiment with mixed fabrics to get the perfect softness and warmth.
Since the material and filling is hand-picked and sewn together, DIY blankets can last longer than some of the readymade ones.
The obvious benefit is the cost. You can save up on material, labor and other costs when you put your own weighted blanket together.
Is the price of weighted blankets worth it? 
Now that we have evaluated the various elements that go into making a weighted blanket, it brings us to the big question—is the cost worth it? We say "yes"!  Any investment in health is worth every cent. This is especially true for weighted blankets and other products in this niche such as weighted vests and toys, that activate your relaxation mechanism through deep pressure touch therapy.
Regular use of weighted blankets can engage your parasympathetic nervous system and help you manage stress better. From improving your quality of sleep to sensory processing abilities, weighted blankets can help in multiple ways.
Considering the amount of work and effort that goes into making these, and the extensive health benefits they offer, it is safe to say that weighted blankets are definitely a useful investment and can work great for most people.